Aluminium crittall style doors
An excellent alternative aluminium crittall-style doors for traditional art-deco steel doors in a range of colours to suit your home.
ATTENTION TO DETAIL
Our replacement aluminium crittall style doors are designed to replicate the appearance of traditional art-deco steel "crittal" style doors. Beautifully designed with great attention to detail ensures that you would be hard pressed to notice the difference from steel windows and our aluminium versions. The likeness to art-deco steel windows is accentuated by the similar looking joints which replicate traditional items & demonstrates the attention to detail in the manufacture of our ultra sleek steel replacement windows.
Please note that we do not supply Crittall brand doors or windows, we offer an aluminium art-deco alternative that is energy efficient and well priced. 
Our very popular Alitherm slimline aluminium crittal style doors replicate the sleeker look of some traditional steel windows and retain the traditional style of your original art-deco style windows – even french doors can be replicated. Our crittall steel replacement doors can be used externally, or internally as room dividers.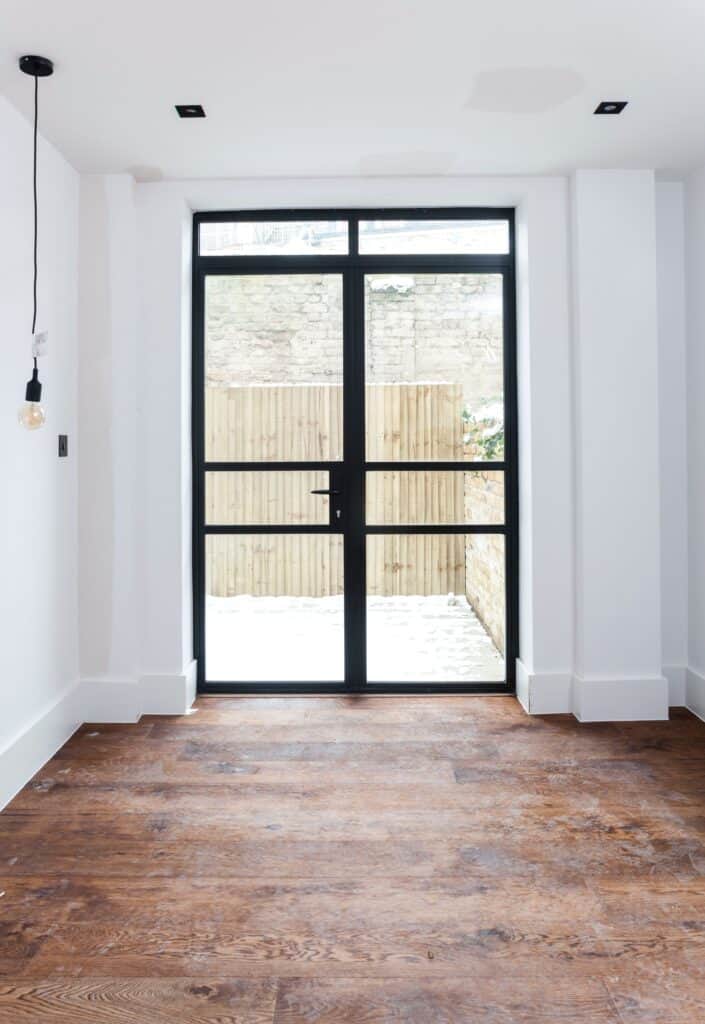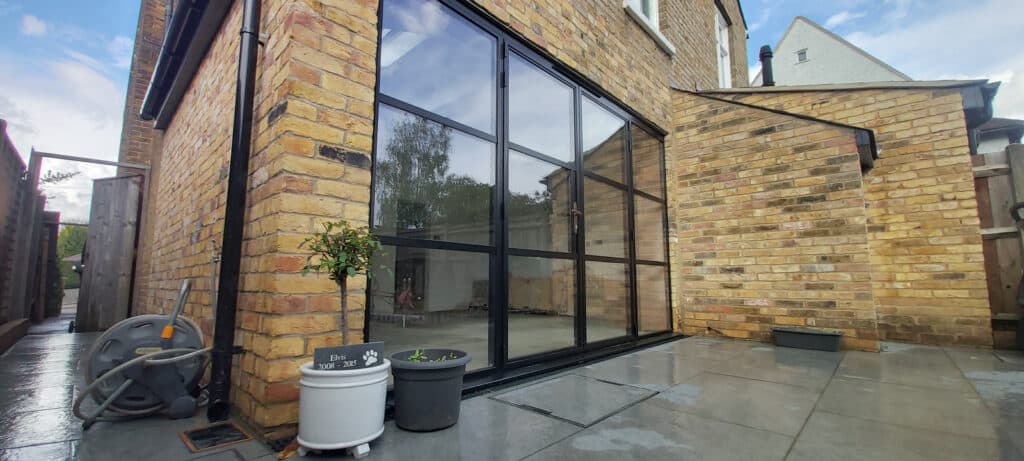 PERSONALISATION
Why not personalise your new Aluminium crittall style doors with a choice of over 200 RAL colours, and we offer 12 stock colours for no additional cost – please ask for more details.  Twin colours are also available to suit your desired look. We also provide a bespoke range of art-deco handles, please ask for more details, or why not pop into our Brasted showroom to view our full range of windows & doors on display.
Should you wish to discuss your extention or refurbishment project with one of our experts, please do not hesitate to call us or complete a quote request online. All of our steel replacement & replica aluminium doors are on display in our Kent showroom near Sevenoaks, Tonbridge and Tunbridge Wells – easy access from Kent, Surrey and Sussex. We also provide Free onsite consultations & no obligation quotations. Friendly, unbiased, expert advice.
Install our excellent aluminium crittal-style doors instead of costly traditional steel doors.
Why choose Aluminium crittall style doors for your home?
Low U Values + excellent thermal efficiency
Slim sightlines
Low maintenance
Over 200 RAL colours to choose from + stock colours
Complies with modern Building Regulations.
If you've ever built a house you'll appreciate how hit and miss glass contractors can be, but The Window Sanctuary stand out as reliable, good quality and easy to deal with. The guys turned up on time, worked really hard and did a fantastic job. I wouldn't hesitate to recommend this company.

Rebecca Stiasny


February 24, 2021

We had our conservatory doors replaced with by-fold doors by The Window Sanctuary and are very pleased with the results . The company were very helpful and spent lots of time with us answering our questions before we actually placed our order. They were very efficient with the installation process and we would recommend them. Competitive price too.

Royston Firman


January 12, 2021

I cannot recommend "The Window Sanctuary " enough. We have a very modern property with large expanses of glass, Aluminium frames were advised and were very competitively priced. The level of customer service was exceptional throughout, the installation process caused minimal disruption and the finished windows and Bi-fold doors look fantastic

meena kharade


October 31, 2019

The team at The Window Sanctuary have been a delight to work with. They have given us really personal customer service, ensuring that every final detail works for us and our build and have listened to what is important to us (happy to be flex when we change our minds!). Quick to respond and offering a really consultative approach, alongside good value for high quality products, I would strongly recommend their service. I was really specific in what I wanted for bifold doors, wanting time achieve that much coveted Crittall appearance and they've made this work for us with a good quality option that doesn't break the bank. What a find!

Abigail Barclay


January 20, 2021
CONTACT US OR VISIT OUR SHOWROOM TO DISCUSS OUR STUNNING RANGE OF WINDOWS AND DOORS.