Aluminium crittall style doors
An excellent alternative aluminium crittall-style doors for traditional art-deco steel doors in a range of colours to suit your home.
ATTENTION TO DETAIL
Our replacement aluminium crittall style doors are designed to replicate the appearance of traditional art-deco steel "crittal" style doors. Beautifully designed with great attention to detail ensures that you would be hard pressed to notice the difference from steel windows and our aluminium versions. The likeness to art-deco steel windows is accentuated by the similar looking joints which replicate traditional items & demonstrates the attention to detail in the manufacture of our ultra sleek steel replacement windows.
Please note that we do not supply Crittall brand doors or windows, we offer an aluminium art-deco alternative that is energy efficient and well priced. 
Our very popular Alitherm slimline aluminium crittal style doors replicate the sleeker look of some traditional steel windows and retain the traditional style of your original art-deco style windows – even french doors can be replicated. Our crittall steel replacement doors can be used externally, or internally as room dividers.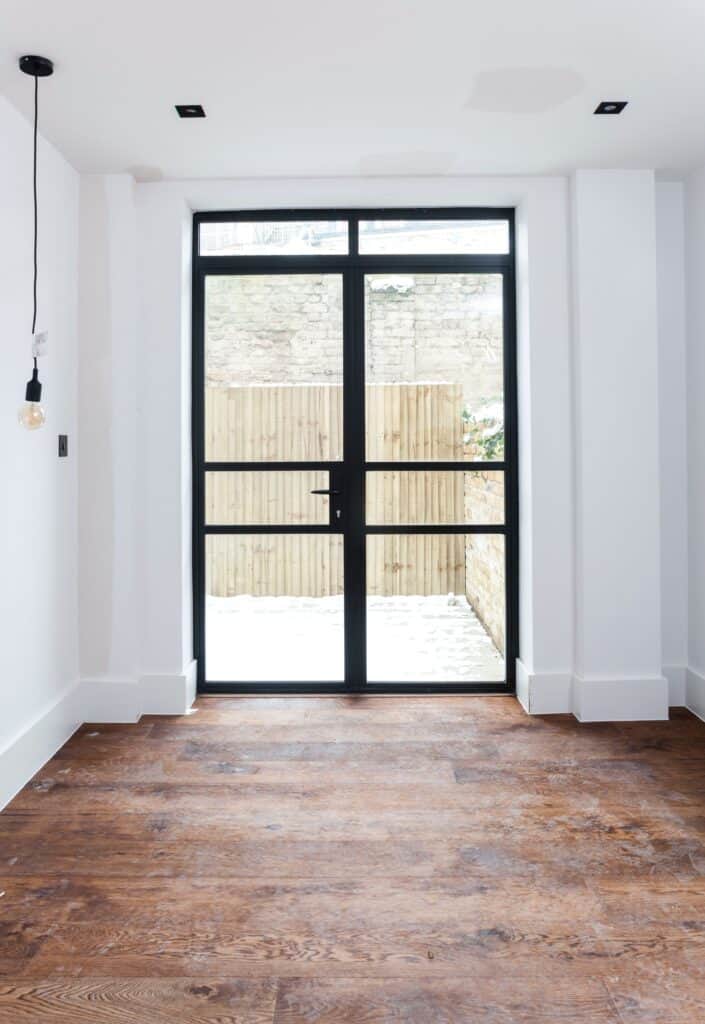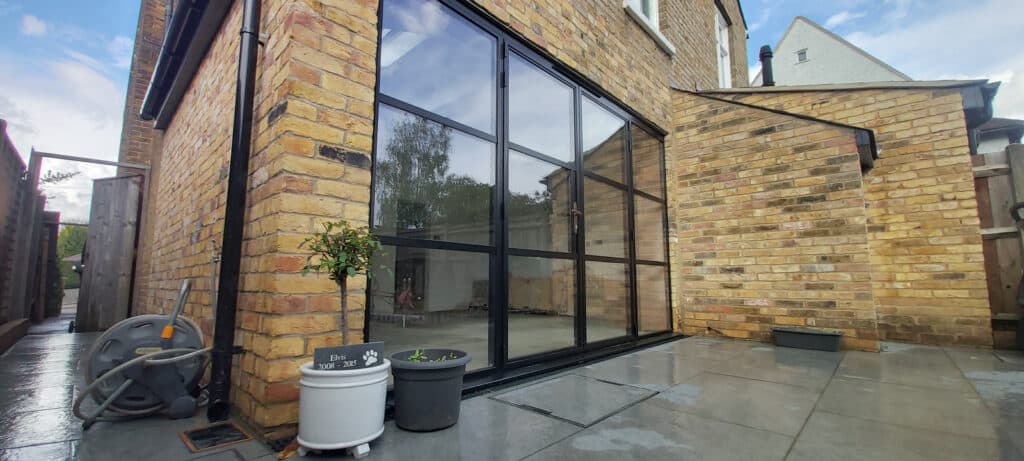 PERSONALISATION
Why not personalise your new Aluminium crittall style doors with a choice of over 200 RAL colours, and we offer 12 stock colours for no additional cost – please ask for more details.  Twin colours are also available to suit your desired look. We also provide a bespoke range of art-deco handles, please ask for more details, or why not pop into our Brasted showroom to view our full range of windows & doors on display.
Should you wish to discuss your extention or refurbishment project with one of our experts, please do not hesitate to call us or complete a quote request online. All of our steel replacement & replica aluminium doors are on display in our Kent showroom near Sevenoaks, Tonbridge and Tunbridge Wells – easy access from Kent, Surrey and Sussex. We also provide Free onsite consultations & no obligation quotations. Friendly, unbiased, expert advice.
Install our excellent aluminium crittal-style doors instead of costly traditional steel doors.
Why choose Aluminium crittall style doors for your home?
Low U Values + excellent thermal efficiency
Slim sightlines
Low maintenance
Over 200 RAL colours to choose from + stock colours
Complies with modern Building Regulations.
From the start The Window Sanctuary were friendly and polite and a pleasure to deal with. They offered lots of advice, especially helpful as our installation was a little tricky. We also had lots of issues with our extension which caused delays our end, which The Window Sanctuary worked around, even though it meant the installation had to be carried out in two lots, when initially it was meant to happen in one go - they were very accommodating and patient, thank you! Would definitely recommend.

Nicola Bandy


January 2, 2022

Really enjoyed dealing with the Window Sanctuary. The office team are very friendly and courteous and the installation team were good fun and very thorough. The finishing touches were beyond my expectations. We're delighted with our new windows and the enhanced view they provide.

Tim Glynne-Jones


March 9, 2022

A great experience with The Window Sanctuary. They supplied and installed some celestial windows and roof lights to a loft conversion that we carried out. It is a period property with original sash windows and it was important to us that the new windows were in keeping with the character of the original house. We are delighted with the finished product. The customer service was very good and they were amenable when our architect got carried away and the window sizes increased quite materially from the original quotation - thereby working hard to minimise the extra costs. The quotation process was quick and efficient. Their surveyor, Steve, was very professional and also had a strong technical knowledge to help advise us during the build stage. The installation team were very professional and worked extremely hard to get the windows fitted during poor weather. The lady on the front desk, Jeannette, was also very friendly/helpful despite my numerous calls to the office throughout the process. There were a few delays but this was the result of CoVid as opposed to anything in their control, and Simon worked hard to get the order pushed through the suppliers and installed promptly. I always like to support local businesses and this one did not disappoint. Will definitely use them again going forward for any further works. Thank you.

Richard Simpson


February 12, 2021

We had a few quotes for 2 x black aluminium windows and French aluminium doors with fixed side panels. The Window Sanctuary were the most competitively priced and were quick to respond to our quote request and follow up questions. The timeline they gave for delivery and installation was accurate and the installers did a great job. We are really happy with our high quality and stylish looking doors and windows! Makes such a difference to our house.

Anna Clarke


September 30, 2022
CONTACT US OR VISIT OUR SHOWROOM TO DISCUSS OUR
ELEGANT RANGE OF WINDOWS AND DOORS.